Well Hello - I have been a little bit slack updating as of late.. An Influx of Orders from my etsy store, Job Searching & Working are all to blame! But here I am & With alot of Mail-y goodness for you!
Before I begin Alot of my lovely penpals have been asking where I find my Penpals.. It has taken me alot of frustration, searching (&a few years) but I have found that these are my Favourite Websites to FIND a Penpal - (I will be doing a post later in the week about my Favourite Letter/Mail Blogs)
-
Pen Pal of The week!
- Beautiful Site with TONS of Penpal Ads & Interviews.. Very Easy to use & Pretty Looking!
My Pen Pal Ad :)
-
Send Something
- It is quite plain & Doesn't look to Spectacular.. but the concept really is! I have met so many wonderful penpals on here! Give it a go!
My Profile
//
Sisters Profile
(Please send her Surprise Letters!)
-
Good Mail Day
- The "Good Mail Day" 2012 Call for Correspondents is a great place to find Penpal Ads from all over the world + Put your own up!
So those are the Three sites I am using at the moment - If you have anymore Please let me know!

This very Spectacular & Special Parcel Arrived from my Wonderful Penpal Paul! (wait till you see the letter!) - Handpainted & Very pretty - I now have to come up with a very creative way to send my package back! Any Ideas?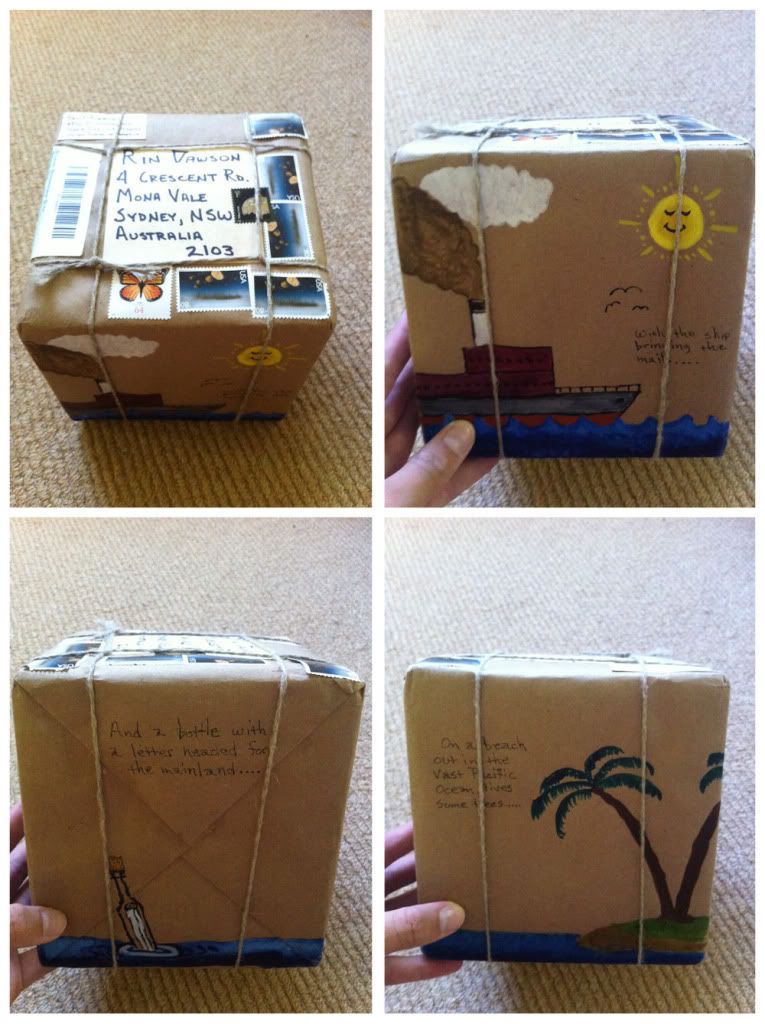 The AMAZING Letter from Paul - Every bit is Hand cut!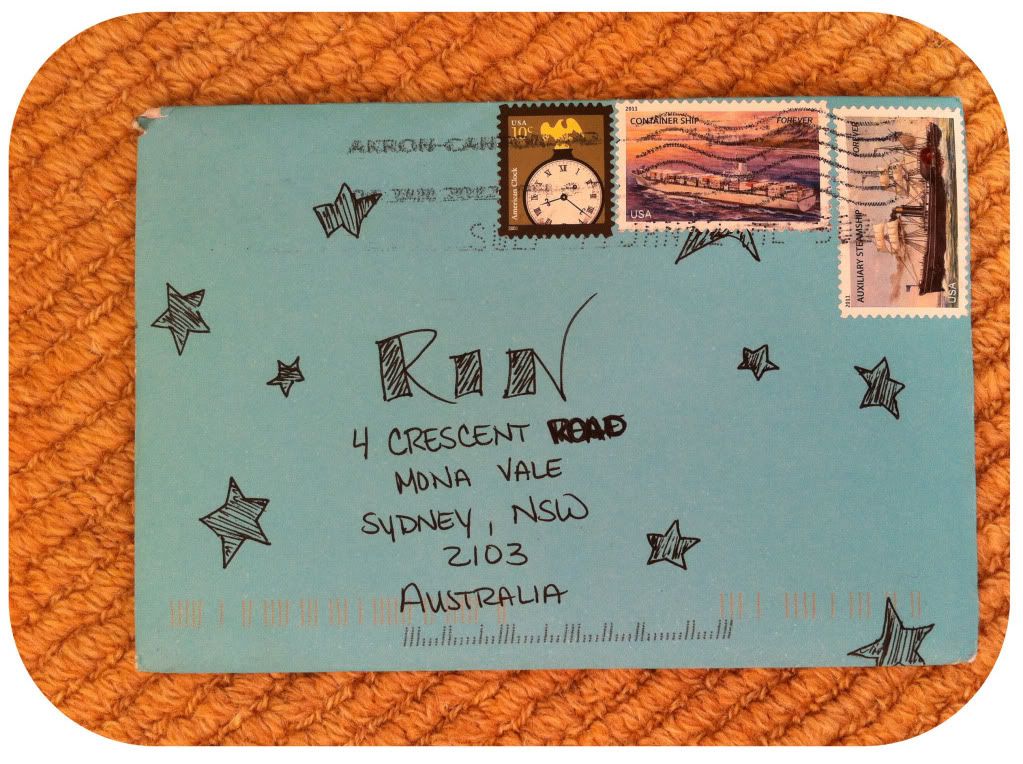 A Pretty Letter from Misty!
A Sparkly letter from Miss Courtney - Her
Penpal Ad
was just featured on Penpal Of the week! You should definately Write her!
a Lovely Letter from Nora! (Such a pretty name!)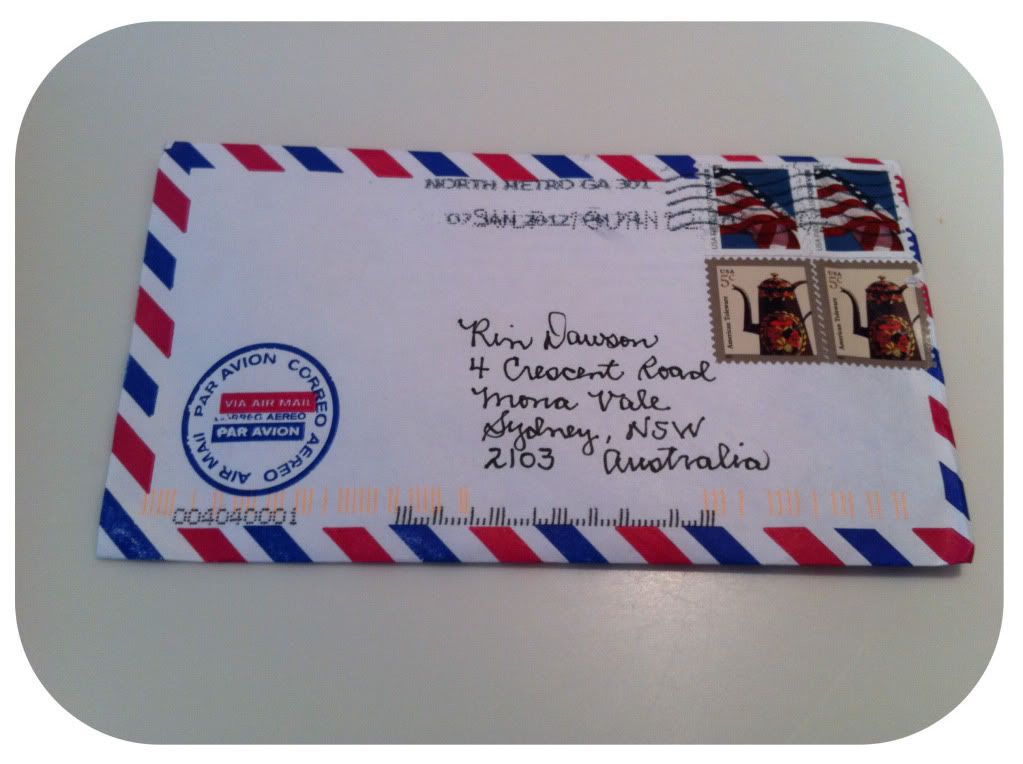 Another Fab letter from LR (Who I met via
Send Something
)
I felt very spoilt when this pretty package arrived from none other than the wonderful
Bubbles
at "Make mine a Mail Day" - Inside were these beautiful
Embroidery Hoops
MAIL Themed :) Thankyou Bubbles!
A Wonderful Postcard from Deedee who found me via
Good Mail Day
she has a wonderful stationery store too -
Teo Stationery
Some lovely Postcards! Holly visted NYC & Wrote me from there :)
And some WONDERFUL news - My Mailbox arrived! After 36 Days in the Post it finally got here safe & Sound!

Packages out to Ester &
Jolly Miss Molly!
Some pretty Handmade envelopes on there way to some lovely Penpals!
Some more Pretty Pink letters!
I Had a Bit of Spare time yesterday So I decided to get back to Basics & get stuck into Some Mail Art! I created these Envelopes with Watercolours then dug out my Ephemera Box & Went to work!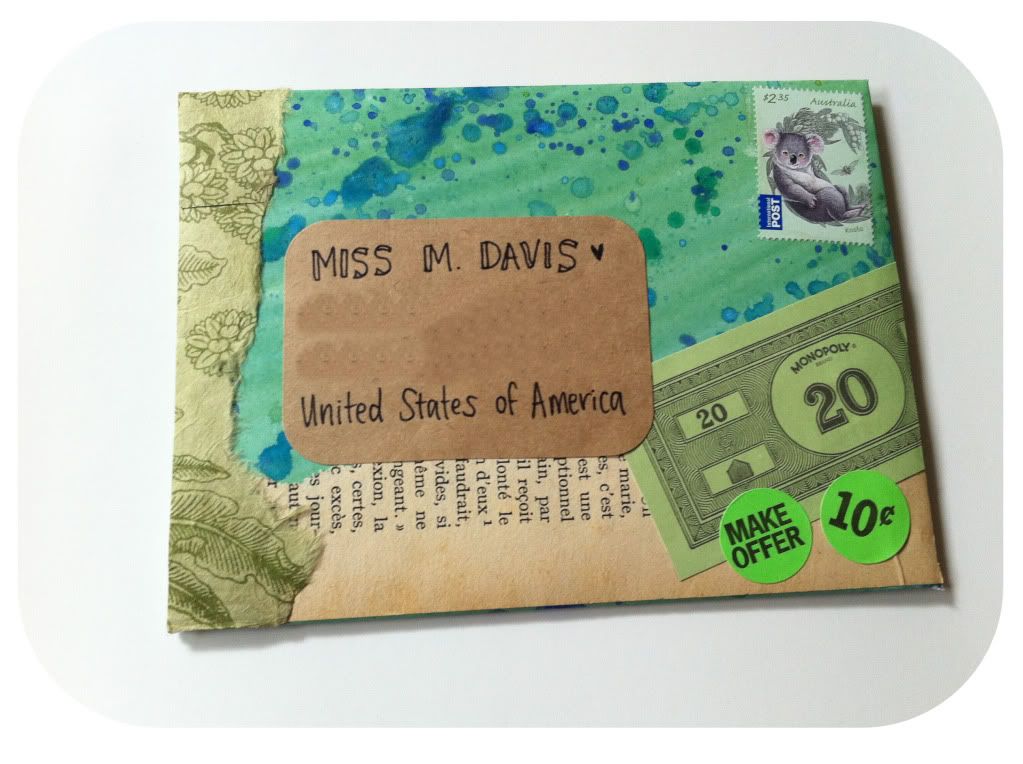 I Also put these Fantastical envelopes in plastic sheaths to mail As I did not want the watercolour to get wet & Run!
Well that is all for Another Week of Mail! Thankyou all for supporting & Reading my Blog & All the wonderful Letters you Send! I am Still looking for lovely People who would write to my Mum or Sister! - Click
HERE
for more information!